Biography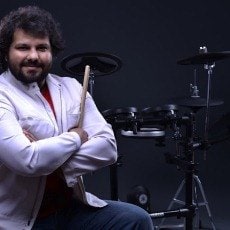 Hariprasad Chaurasia, Pt. Shivkumar Sharma, Ustad Rashid Khan, U. Srinivas, Fazal Qureshi, Taufique Qureshi, and Pt. Vikku Vinayakam; to Bollywood sessions and gigs with Shankar-Ehsaan-Loy, Salim-Sulaiman, Vishal-Shekhar, Pritam, and Hariharan; to fusion groups SILK, Yuva, Niladri Kumar's Sitar Funk, Rakesh Chaurasia, Dhruv Ghanekar, Amaan & Ayaan Ali Khan and Bala Bashkar; to rock bands like Helga's Fun Castle, Gary Lawyer, Skinny Alley, Joe Alvares and Zero.
He has performed with international musicians like Mike Stern, Guthrie Govan, Tony Lakatos, George Brooks, The Maske Trio, Leni Stern, Jay Oliver, Angela Hagenbach, Jonas Desai, Carl Clements and The Maske Trio .
As well as with Dance Troupes like Pt. Birju Maharaj's Kathak Group, Aditi Bhagwat and Terence Lewis Contemporary Dance Company and many more.
He has also had the Honor and Privilege of playing a few tracks on the Miles From India Album produced by Bob Belden, nominated for a 2009 Grammy in the Contemporary Jazz Category with Times Square Records, NYC; a fusion of Great Indian Classical Musicians and Miles Davis Alumni Musicians.