Biography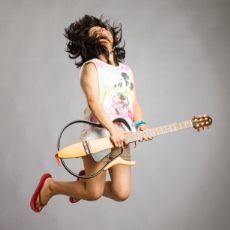 Looking at the petite and tiny Jasleen Royal, in her trademark pyajamas and long loose t-shirts, all of 19 years, no one can imagine of how talented this little girl might be. But as soon as she puts her guitar around her neck, starts strumming those strings and lending her voice, we can be nothing but astounded.
Random yet certain, humorous and appealing. Her love for music dates a long time back.
Always inclined towards music, she taught music to kids almost her age when she was just 14. Why? Because she wanted to be independent and be financially unreliant on anyone. Although she always got her family's untiring support.
Started with learning the keyboard, she used all she gathered to figure out guitar and mouth-organ herself. Now she can play two of these things at the same time. Expertise is her specialty- when the context is music. No stopping the rockstar! Her songs revolve around the basics of life and the simplicity with which she expresses emotions through her songs is commendable.
Other Guitar & Bass Artists