Biography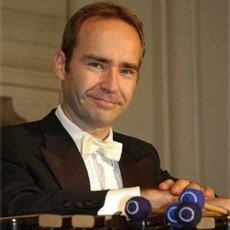 His creative output is currently captured on four CD's of marimba and percussion, and one CD with the recording of Darius Milhauds marimba /vibraphone concerto. As a soloist he perform often his own marimba concertos in Germany and abroad, - among others with Hannover Radio Symphony, Stuttgarter Philharmoniker, Münchner Symphoniker, Österreichischer Kammersymphoniker, etc.In 1995 he made his Austrian debut in famous Vienna's "Konzerthaus" with Milhauds Concerto, and 1997 was marked by world premiere of his own second concerto for marimba and orchestra in Munich's Herkulessaal, with Munich Symphonic Orchestra. Beside his concert activities he gaves master classes and seminars in allmost all European countries, in Asia and at about 30 universities in the USA so far.In 1996 and 1997 he was Visiting Professor at the University of Minnesota, Minneapolis and University of Hartford, Connecticut.
Zivkovic performs on the One-of-the-kind Marimba, made in 1997 by YAMAHA in JAPAN especially for him. ComposerWithout doubt Nebojsa Zivkovic is one of the most successful German composers of his generation.His chamber music and orchestral pieces were performed in more than 30 countries all over the world, from Iceland to Indonesia, from Tokyo to New York. Renowned conductors and orchestras took care of his percussion and marimba concertos. During the last two years his compositions were performed among others in Washington, London, Stockholm, Rom, Tokio, Wien, Belgrad, New York, Reykjavik, Paris, Taipei, Osaka, Manchester etc...Merely some of the orchestras should be mentioned: National Symphony Orchestra, USA, BBC- Concert Symphony Orchestra, Orchestra di Santa Cecilia, Rom, Northern Sinfonia, New Castle UK, Stuttgart Philharmonic, Munich Symphony Orchestra, and many others.Since the world première of his second marimba concerto in April 1997 in Munich (Herkulessaal) with Zivkovic as soloist, many performances of this successful piece followed world-wide: just that very year in Austria and USA and in 1998 also in Japan.
The world première of his latest orchestral work, his percussion concerto "Concerto of the mad queen" commissioned by the Northern Sinfonia (UK) and Evelyn Glennie took place in England in the year 2000. In less than one year the concerto (at present exclusively performed by Nebojsa Zivkovic and Evelyn Glennie) was already crowned with success on the concert stage. After its successful world première the orchestra immediately commissioned a new composition: a horn concerto for the season of 2002.(première in May 2002).Zivkovic was also commissioned by the Ministry of Education and Cultural Affairs in Baden-Württemberg (GERMANY) the foundation "100 YEARS YAMAHA", several cultural initiatives, orchestras and soloists at home and abroad.