ProVisionaire Touch iPad Application will be upgraded to Version 2.0
ProVisionaire Touch iPad Application will be upgraded to Version 2.0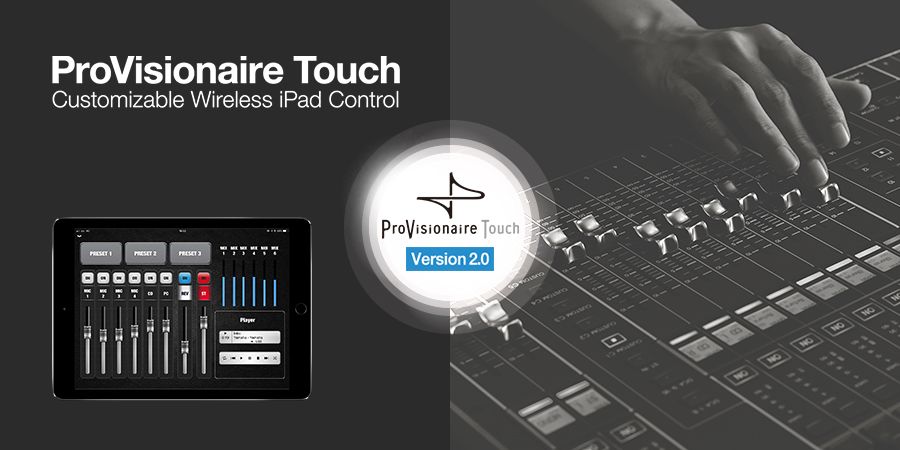 Announcing the V2.0 update for ProVisionaire Touch, the iPad app that allows the customer to create their own original touch panel controller that perfectly suits their installed facility or usage needs, simply by intuitive operations on a tablet, and without any need to learn special programming. This update newly supports the CL/QL/TF series digital mixing consoles and the R-series (ADDA) I/O racks. (ProVisionaire Touch V2.0 is scheduled for release in the end of Mar, 2018.)
Wide support for Yamaha pro audio equipment
On a single iPad, you can bring together the control functionality that you need to adjust the volume of multiple fader channels for the MTX/MRX series of signal processors or the CL/QL/TF series, or adjust the HA gain of the R-series (ADDA) I/O racks when tuning the system. This allows you to construct a more convenient control system that's ideally suited to your specific venue, whether it be a cafe, restaurant, hotel banquet hall, conference room, auditorium, or event space.
Supported devices:
Digital Mixer CL1/CL3/CL5/QL1/QL5/TF1/TF3/TF5
I/O Rack Rio3224-D/Rio1608-D/Ri8-D/Ro8-D/Rio3224-D2/Rio1608-D2
Newly added functionality makes even more usable and flexibile
This new version adds Meter and Indicator widgets that let you monitor the audio input/output levels of each device, as well as an SD Player One-Shot function that allows audio sources from an SD card inserted in an MTX/MRX series unit to be played back in a single action. Additional new conveniences include the Polygon widget which provides more flexiblity when drawing curves, and a Zoom Edit function that's useful when making fine adjustments to the design.
System Example: PA system for the speech and music performance events (Hotel banquet)
- Use an iPad in which ProVisionaire Touch is installed to adjust the volume of speech or background music
- Take advantage of the MTX5-D's Preset function to switch between spaces such as Room A and Room A + Room B. Use a DCP series digital control panel to perform switching
- Utilize the TF1 digital mixer for situations that involve numerous channels and require detailed control, such as panel discussions and performance events
- Use ProVisionaire Touch to control function presets for the TF1 and MTX5-D as appropriate for different situations, such as speeches or performance events
*Product and company names and logos that appear in this news release are trademarks of their respective owners.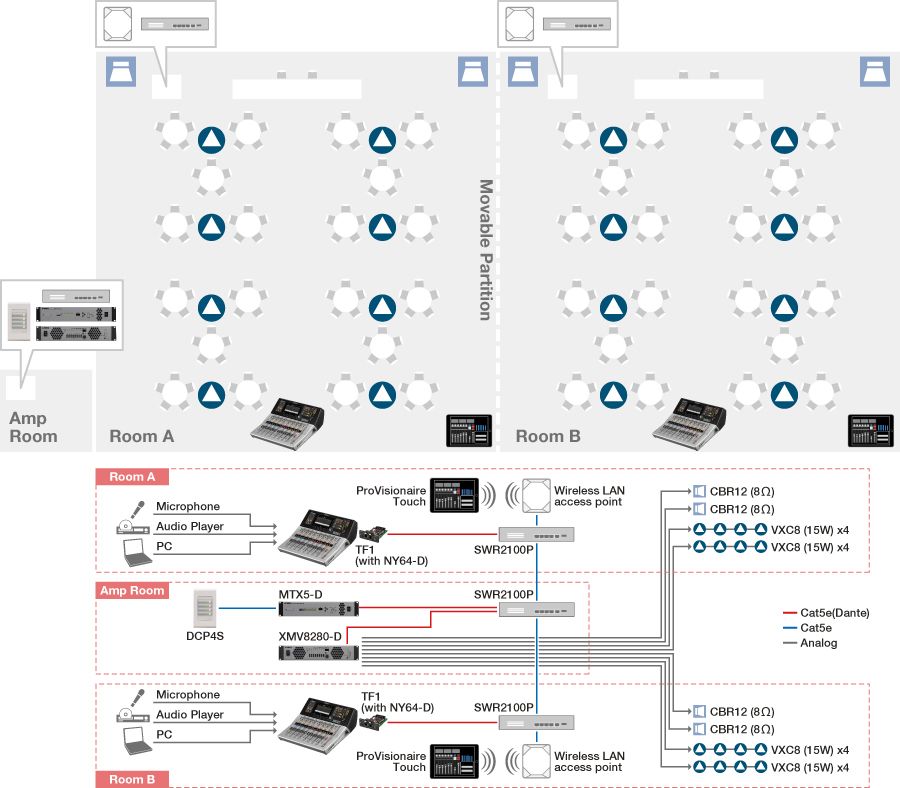 ProVisionaire Touch iPad Application will be upgraded to Version 2.0