New Power and Performance for Live Recording. Nuendo Live 2 Now Bundled with CL/QL/TF Series Consoles.
New Power and Performance for Live Recording. Nuendo Live 2 Now Bundled with CL/QL/TF Series Consoles.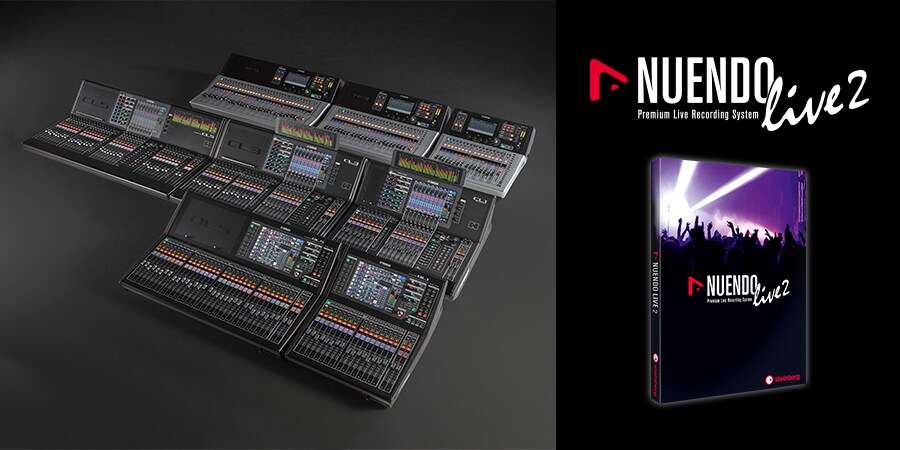 September 12, 2018. Shizuoka, Japan. –  Steinberg Nuendo Live multitrack live recording software currently bundled with Yamaha CL, QL, and TF series digital mixing consoles will be updated to Nuendo Live 2.
Nuendo Live provides advanced multitrack recording capability for live music of any scale, from club gigs through concert halls to festivals. It offers the simplicity and stability needed for live recording, along with a comprehensive feature set that will satisfy professional requirements while allowing easy operation in busy live sound situations. Tight integration with Yamaha CL and QL series consoles that allows channel names, markers, and transport functions to be remotely controlled from the console interface is highly valued in live recording environments (remote control is not available from TF series consoles).
Nuendo Live 2, the latest version of Nuendo Live announced by Steinberg, adds a new Meter View display that provides expanded record level monitoring capability. Meter displays have also been improved in Track View (previously Project Window). Other refinements enhance recording management functionality, allowing record folders to be created on multiple disks for a single project. This makes it easy to pause recording between bands at a festival and use separate folders for each, for example. Visit the Steinberg website for more detailed information on Nuendo Live 2.
Andreas Stelling, president and managing director of Steinberg comments: "Nuendo Live 2 has been designed based on much of the feedback we received from existing Nuendo Live users and other professional live recording engineers. The new features were carefully considered and chosen to deliver an intuitive yet extremely reliable live recording experience. I am very pleased that our latest live recording software is being offered together with several different Yamaha digital live consoles. It's the perfect match - Yamaha live consoles and Nuendo Live 2 by Steinberg."
According to Yoshi Tsugawa, general manager of the Yamaha pro audio division: "We are pleased to be able to deliver improved solutions created through closer cooperation between Yamaha and Steinberg, both Yamaha Group brands. With industry-leading Yamaha sound and Steinberg recording capabilities, this new release offers multiple advantages for the live sound environment."
About Steinberg Media Technologies GmbH
Steinberg is known the world over for its music and audio software and hardware solutions. The company has been developing, manufacturing and selling innovative products for musicians and producers in the music, film, post production and multimedia industries since 1984. Steinberg products are used by Grammy and Oscar award-winning composers, engineers and producers. The company also offers business customers license-management and copy-protection systems.
New Power and Performance for Live Recording. Nuendo Live 2 Now Bundled with CL/QL/TF Series Consoles.